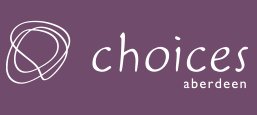 Choices Aberdeen
Welcome to Choices Aberdeen
Unplanned or crisis pregnancy help at Choices Aberdeen
If you're facing an unplanned pregnancy and struggling to come to terms with your situation, talking things through is often a simple first step in taking back control.
Choices Aberdeen will give you a safe, calm and confidential environment where you can talk to people with the skills and experience to let you know what your options are.
You'll get all the information on all the available options to allow you to make an informed decision about your next steps. Support is also available for your partner and other members of the family.
Pregnancy loss
If you're experiencing grief following miscarriage, still birth, infant death or termination of pregnancy, our counselling team can provide a grief programme to help you.
The programme will help you find strategies to cope with difficult emotions whilst finding healing.
We also offer post-abortion counselling for clients who feel that a termination is still impacting on their daily lives.
Choices Aberdeen is a registered Scottish Charity.
We welcome referrals from all agencies and self referrals.
Please contact us to make an appointment before planning a visit.
We cover these areas
Aberdeen
Contact us…
Phone
If you're on a mobile click a number to dial:
Email
If you'd rather use email, click the button to send us a message — we'll get back to you as quickly as possible…
Email us
Website
Learn more about how we can help you by visiting our website — click the button for help & support…
Visit our website
This centre may not refer directly for termination
* Please note that although this centre will be able to offer advice on available options they may not be able to refer women directly for a termination. Please ask the centre for confirmation in the event you make contact with them.
Free services & opening times for Choices Aberdeen
Free services
You can get help with any of the following services:
Free pregnancy testing (with immediate result)
Pregnancy crisis counselling
Pre-abortion counselling
Post-abortion counselling
Miscarriage counselling
Baby loss counselling
Free clothes and baby equipment
Befriending service
Opening times
Please ring for an appointment - please see our contact details above
Where will I find Choices Aberdeen?
Address & directions
You'll find Choices Aberdeen at the following places:
Address:
Credo Centre, 14-20 John Street, Aberdeen, Aberdeenshire AB25 1BT
Directions:

We're located in John Street, Aberdeen city centre.
John Street lies between George Street (just along from John Lewis) and Loch Street (at the rear entrance to Aberdeen College).
On arrival for your appointment, please ring the security entrance buzzer, and a member of our team will come and meet you on the ground floor.
Find us on the map…
Use the map controls on the left to zoom in or out.
To move the map position just click and hold then drag.