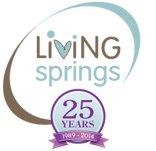 Living Springs Pregnancy Support Centre, Stourbridge
Welcome to Living Springs Pregnancy Support Centre
Welcome to Living Springs information page.
You have reached this site as you or someone you know may be searching for answers to some questions around the whole issue of being pregnant. We would hope to be able to answer some of those questions and give you some help.We at Living Springs are unique in that we can offer supported accommodation for those considering their options or are finding it tough to bring up a child without support. We can provide accommodation and support for mothers to be and those seeking some help with their parenting after birth.
Sometimes the pressures you can be put under from friends, family and society can lead you to a decision that may not be yours. We could be the place to offer you an alternative in what you may think is a hopeless situation.
We have fully furnished apartments in a rural setting just a short bus ride from Stourbridge town centre in the West Midlands. We will also be able to give onsite support, so you will not be alone. We offer support to:
Pregnant mothers facing decisions about termination
For mothers to be during pregnancy and in the early stages of looking after their baby
Mothers to be seeking adoption options
Support to enable young parents to sustain care for their baby and move into independent living
Young children and babies that may be at risk from various situations
Depending on circumstance we may be able to offer free accommodation and support. We can provide:
Support
Counselling
Meaningful activity
Skills training
Parenting and life skills
Professional advice
HOW CAN YOU FIND OUT MORE AND FIND OUT HOW WE CAN HELP YOU?
Ring us on 01384 872817 or for TAM 01384 443446
Email us at [email protected] or use the contact form here.
WEBSITE – Follow this link http://www.livingsprings.co.uk/supported-housing/ and choose the 'SELF REFFERAL' form at the bottom. Once completed post or email to us and we will contact you.
We cover these areas
West Midlands
Contact us…
Phone
If you're on a mobile click a number to dial:
Email
If you'd rather use email, click the button to send us a message — we'll get back to you as quickly as possible…
Email us
Website
Learn more about how we can help you by visiting our website — click the button for help & support…
Visit our website
This centre may not refer directly for termination
We are not able to refer directly for termination. We offer clients information on all the options and are well-resourced to provide both immediate and long term support as necessary, directing to other agencies as appropriate.
Free services & opening times for Living Springs Pregnancy Support Centre
Free services
You can get help with any of the following services:
Free pregnancy testing (with immediate result)
Pregnancy crisis counselling
Pre-abortion counselling
Post-abortion counselling
Miscarriage counselling
Baby loss counselling
Adoption advice for birth mothers
Free clothes and baby equipment
Befriending service
Opening times
Living Springs operates an appointment-only service.
Please phone for an appointment - if the phone is un-manned please leave your contact details and we'll get back to you as soon as we can
Where will I find Living Springs Pregnancy Support Centre?
Address & directions
You'll find Living Springs Pregnancy Support Centre at the following places:
Address:
The Upper Room, 105 High Street, Stourbridge, West Midlands DY8 1EE
Directions:

We are located above Vines restaurant.
The coffee shop is across the street from Barclays Bank on the High Street.
Access our centre by taking the stairs at the back of the restaurant, or via the Vines.
Find us on the map…
Use the map controls on the left to zoom in or out.
To move the map position just click and hold then drag.